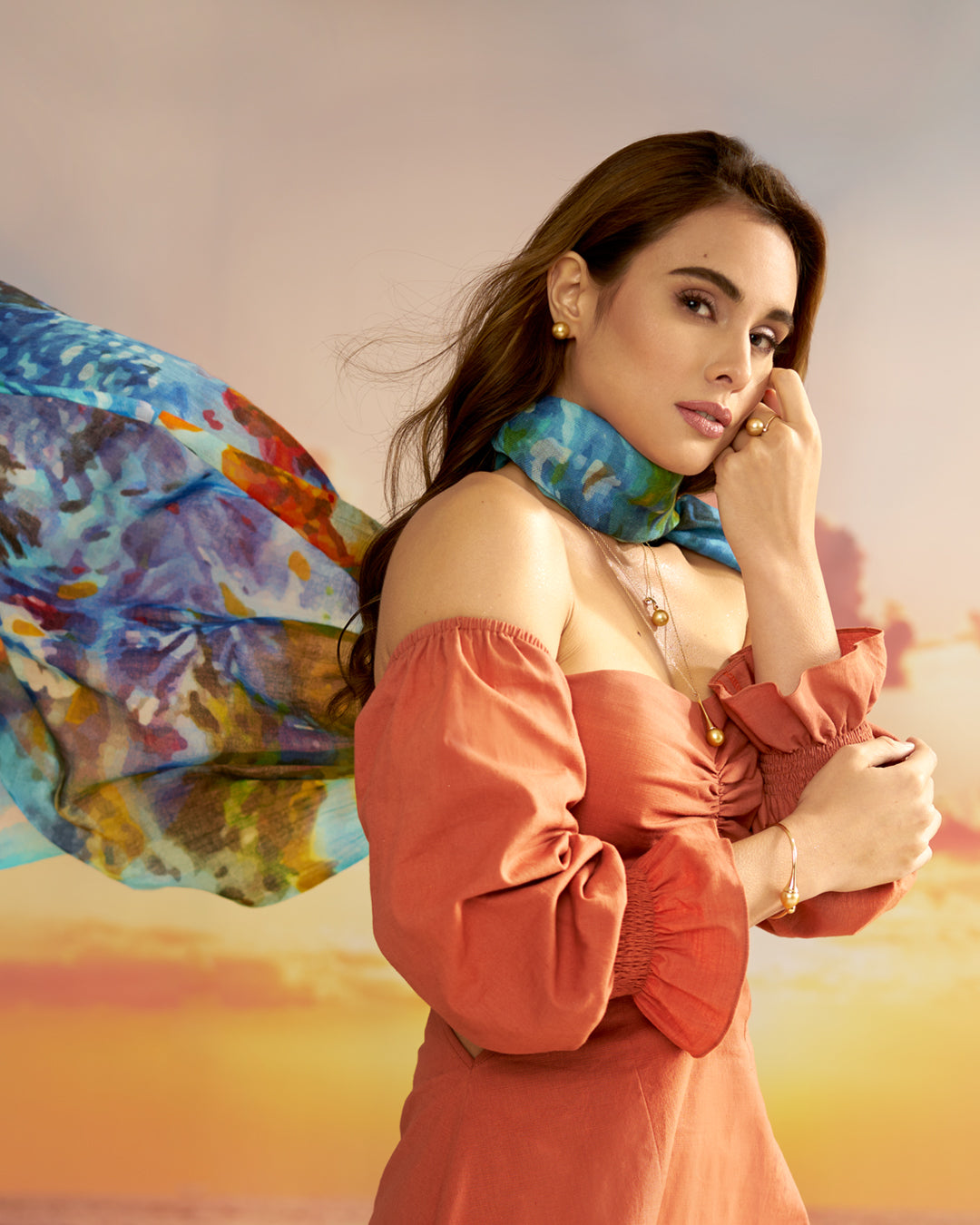 Jewelmer, the pioneer of cultivating the Philippine national gem, taps into every individual's passion to create and empower. The pearl, the world's only living gem, is a radiant pledge to beauty and creative vitality. To welcome the month of October with excitement and brightness, the maison invites you to preserve the gifts of Mother Nature with its refined Hope creations.
Through loose brush strokes and  a kaleidoscope of colors, the Hope Scarf lends itself to striking originality. This intricate scarf is a beacon of hope and a luminous symbol of the unity between man and nature much like the effervescent golden South Sea pearl. A serendipitous balance of purity and tranquility, this rare piece is a beautiful work of art.
Gentle blues, oranges and the greens of a charming sunrise fill this exquisite scarf with a beautiful interplay of pearls and the colors of life at sea. Its enveloping warmth and vigor depict an everlasting sunshine reminiscent of one found in the luster of a South Sea pearl.
Where hope is precious, the Hope Scarf is a joyous homage to the exceptional beauty of faith. Delicate and soft to the touch, the scarf is woven with the colorful threads of optimism, community, and sustainability.
Inspired by the "We Create Hope" painting by artists Henri Lamy, Alexander Beretta, and Chufy, the Hope creation is poetic and graceful—a surreal landscape in vivacious hues. This artistic collaboration demonstrates the creative power of cooperation across ages, races, and cultures. "We Create Hope" is a reminder that we do not create the perfect pearl – we create the world that makes it.
With the maison's divine Hope creations, Jewelmer honors and fulfills a promise: A masterpiece has the power to transform, to illuminate, and to inspire.