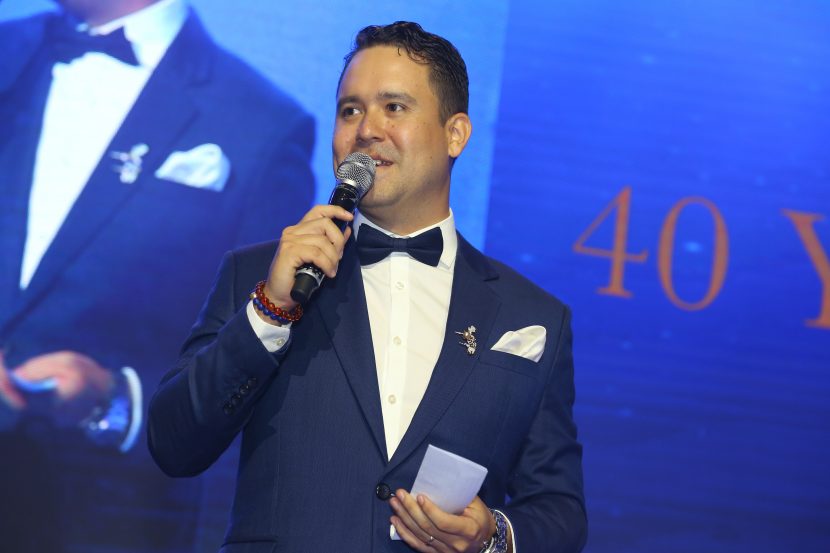 An evening full of smiles and surprises filled the room as Jewelmer celebrated its 40 years of bringing the beauty of the golden South Sea pearl to world. Held last March 12, 2019 at the grand ballroom of Shangri-la at The Fort, patrons and long-time partners of the brand gathered together to recognize this momentous milestone.
It was a feast for the senses as guests were immersed in a room transformed with all things Jewelmer during the 40 Years of Luster Gala. The glamorous evening started off with a showcase of Jewelmer's most prestigious pieces that date back to 1979. These included the very first cultured pearl up to a wide array of limited edition pearl creations that have become iconic to the brand. Surrounding the archive collection was a photo exhibit that made guests go through Jewelmer's lasting history which featured the pearl farms when they were discovered, memorable encounters of its founders to the most recent boutique openings. It was a first that a special demonstration of pearl stranding and sorting was present at an event. This enabled guests to engage and experience what goes behind making a single Jewelmer piece. The 40th gala also served as the debut of Jewelmer's 2019 pieces. Inspired by the fantasy of the moment, each piece evoked a story beyond one's imagination. South Sea pearls adorned in colored stones became the highlight of the night.
As the night progressed, the curtains opened and the Jewelmer jazz band welcomed the guests to a much bigger venue all decked in blue. Hosted by Marc Nelson and Rovilson Fernandez, the lovely dinner began by a warm welcome given by the Jewelmer founders, Mr. Manuel Cojuangco and Mr. Jacques Branellec. The two looked back on their humble beginnings and shared a few words on their Jewelmer Journey. "We certainly are very grateful for the adventure that we've had. There are so many people that have been with us on this journey for which we are very grateful for. For 40 years, a lot of people would say we've been very lucky, but more than lucky, we have been very blessed. We have been recipients of a lot of grace and it is by this grace that we got to this point." shares Mr. Cojuangco, Jewelmer Group Chairman. Mr. Jacques Branellec, Jewelmer Group President and CEO also pointed out, "We are a Filipino brand. Our core is Filipino even if we have some French influence. We are proud to promote the best of the Philippines." As the two concluded their speeches, Mr. Jacques Branellec invited a surprise guest on stage, Mr. Rogelio Bas, who was one of the company's first farm managers. Rogelio has been with Jewelmer for 40 long years. He started as a diver and then became part of the first group that contributed to the creation of the first golden South Sea pearl. "It was challenging but when we saw the pearl, we were very happy because that was the time we knew our hard work was being paid off. The golden pearl is made from hardship, determination, passion and love for nature." Rogelio ended with an invitation to help in cleaning our environment and taking care of nature and reminded the audience that "The golden pearl is a result of a golden heart." It was an emotional and enlightening moment for everyone as they listened to the welcoming remarks.
Ladies who have been a part of Jewelmer's 40 years were also called on stage for a photo opportunity with the founders. Angel Aquino, Jo Ann Bitagcol, Justine Gabionza, Anne Umali, Jenny Rockett, Maxine Medina, Bianca Valerio, and Fatima Rabago were donned in Rajo Laurel creations accentuated with Jewelmer's Golden South Sea pearl strands.
The surprises of the night had just begun as Jewelmer's Executive Vice President and Deputy CEO, Mr. Jacques Christophe Branellec emphasized that "through the years, it is gratitude, humility and love that brought us where we are today. Without those, our national gem would not be on this global stage." Following those words was the big and exciting announcement on the new Jewelmer logo. In the words of Jacques Christophe, "It is an emblem that will stand tall here and overseas, among the best jewelry brands in the world and one that is proudly Filipino."
From one Branellec to another, Ms. Marion Branellec – De Guzman, Marketing Manager revealed Jewelmer's 2019 Campaign. Shot in one of the pearl farms, the campaign features Mrs. Solenn Heussaff-Bolzico who embodies the spirit of a Jewelmer woman. It is a tribute to Mother Nature that highlights the golden gem against landscapes and the ocean.
During the gala, another surprise was set for all to experience. One of the country's multi-awarded singers, Sarah Geronimo gave the audience an astounding performance. This became the indication that party had just begun. Everyone joined in on the dance floor and danced the night away!
The 40th of Luster Gala celebrated Jewelmer's meaningful past and its promising future.